Bagi yang ingin memahami rumus earning per share, coba cek ulasan di bawah ini terlebih dahulu.

Laba bersih per saham atau yang sering kita sebut dengan earning per share adalah pembagian antara laba bersih yang didapatkan oleh perusahaan di periode tertentu dengan jumlah saham yang beredar (outstanding shares).

Hal ini dilakukan untuk menstandarisasi satuan antara laba bersih perusahaan dengan lembar saham yang diterbitkan. Ini juga untuk mempermudah para pemegang saham berapa keuntungan dari setiap lembar saham yang mereka punya. Karena setiap pemegang saham tidak sama jumlah kepemilikannya (lembar sahamnya).

Misalnya Danny yang memiliki 1000 lembar saham, dan Grace yang memiliki 1232 lembar saham. Bagaimana cara mengetahui berapa keuntungan per lembar saham yang dimiliki masing – masing? Semua harus dibagi sesuai lembar saham yang ada di perusahaan tersebut.

Sebelum lanjut ke perhitungannya, coba cek dulu tabel di bawah ini: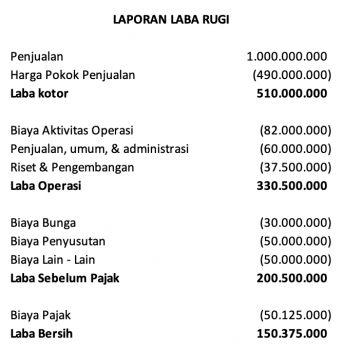 Di tabel atas terlihat bahwa operasional PT GLSM berhasil mencetak keuntungan sebesar Rp. 150.375.000,-. Nah, misalnya lembar saham yang ada itu sebanyak 1.000.000 lembar, maka berapa porsi keuntungan yang menjadi bagian Danny dan Grace?

Kita perlu kalkulasi secara apple to apple (atau samsung to samsung #ehh): jika bandingkan harga, harus dengan laba bersih per saham. Jika membantingkan laba bersih total, harus dengan kapitalisasi pasar.

Cara menghitung Earning Per Share adalah sebagai berikut:
Laba perusahaan adalah Rp. 150.375.000,-
Jumlah lembar saham perusahaan adalah 1.000.000 lembar
Maka, laba bersih per saham adalah Rp. 150.375.000,- / 1.000.000 lembar = Rp. 150 / lembar saham (ini sering disebut juga dengan EPS atau earning per share.
Dari sinilah, Danny dan Grace bisa menghitung berapa porsi laba atas kepemilikan saham perusahaan mereka masing – masing bukan?

Dan jika ini adalah perusahaan terbuka yang tercatat di bursa efek, maka kita bisa lebih mudah membandingkan antara laba dengan harga (Price Earning Ratio), Deviden dengan laba (Dividend Payout Ratio), dengan yang lain – lainnya.

Ingat, laba bersih bukan apa yang akan diterima oleh pemegang saham ya. Yang akan diterima pemegang saham adalah Deviden.

Semoga bermanfaat!