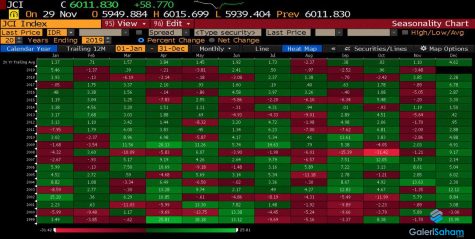 Tim analis GS PRO mengumpulkan data siklus pergerakan IHSG dalam 10 tahun terakhir. Panjang sekali! Ya, biar kita lebih yakin atas apa yang akan kita hadapi di akhir tahun 2019. mungkin banyak dari Anda yang mulai merasa 'lelah' dengan pergerakan pasar akhir – akhir ini, khususnya di semester ke 2 tahun 2019 ini.

Dalam siklus bulanan IHSG selama 20 tahun terakhir, luar biasa dapat kita lihat bahwa setiap bulan Desember IHSG ditutup selalu di atas harga awal bulan.

Kalimat di atas harus dipahami yah!
Setiap bulan Desember, harga penutupan akhir bulan selalu (19/20 bulan) di atas harga awal bulan. Ini bisa berarti:
Sepanjang bulan Desember IHSG bergerak naik terus menerus, atau
Sepanjang bulan Desember IHSG bergerak naik, namun di akhir bulan terkoreksi dengan penutupan tetap di atas harga di awal bulan
Sepanjang bulan Desember IHSG bergerak turun terus, namun menjelang akhir bulan IHSG mengalami penguatan yang signifikan menjadikan penutupan akhir bulan lebih tinggi dari harga awal bulan.
Mana yang akan terjadi? Bisa di antara 3 di atas, dan kami menilai skenario pertama maupun kedua yang paling mungkin terjadi. Jadi, tugas kita adalah: FOLLOW THE TREND. Maksimalkan peluang window dressing ini untuk buy & hold saham uptrend (jangan yang downtrend, jangan yang konsolidasi).

Pastikan Anda menggunakan trading idea & watchlist GS PRO Anda untuk mengikuti arus positif di pasar sepanjang bulan Desember ini.

Dan ingat, jangan asal beli saham karena tidak semua saham naik ketika IHSG naik. Jangan gegabah melakukan hal demikian. Pantau saham – saham pilihan di private channel GS PRO Anda baik ulasan fundamental maupun teknikal.

Have a profitable & systematic end-of-year rally!