Kami banyak mendengar komentar seperti ini menjelang pemilu: "Nanti aja deh tunggu kelar Pemilu". Terdengar klise?

Klise? Apa maksudnya? Sebelum menjelaskan hal ini, ada baiknya coba simak hal di bawah ini:

Kami sudah masuk ke pasar saham sejak tahun 2004. Ketika itu, pasar menunggu hasil pemilu yang notabene adalah pemilu 'normal' pasca segala proses reformasi sejak krisis tahun 1998. Alhasil di tahun yang sama, ketika itu kami menyaksikan sendiri IHSG bullish dari level 660-an ke level 1000 di penutupan akhir tahun 2004. Wow, coba bayangkan ketika saat ini (tahun 2019) IHSG berada di 6600, maka dengan kelajuan yang sama seperti tahun 2004 maka di akhir tahun IHSG berada di level 10000. Jangan under-estimate the power of the market.

Nah, hal yang sama berlaku di tahun 2009. Di tahun 2009 IHSG memulai di angka 1400-an, dan di tahun pemilu, IHSG naik hingga mencapai 2500-an!

Bagaimana tahun pemilu 2014: IHSG memulai tahun di angka 4300-an, dan menutup tahun tersebut di level 5200-an.

Kembali ke maksud: 'klise', apa maksudnya?

Begini, klise adalah hal yang selalu berulang – ulang dikatakan / dilakukan. Kalimat respons pelaku pasar: "Nanti aja deh tunggu kelar Pemilu" selalu berdengung sejak saya di market di tahun 2004, 2009, dan 2014. Dan kini, kalimat klise tersebut kembali disebut – sebut.

Nah, ga selesai sampai disana. Kalimat klise ini berlanjut dengan urutan seperti ini (kurang lebih):
Ah nanti saja deh setelah pemilu. Lalu…
Ah tunggu pembentukan kabinet dulu. Lalu…
Ah nanti tunggu 100 hari kinerja kabinet dulu. Lalu…
IHSG sudah naik tinggi dari sejak point nomor 1. Lalu…
Nanti aja deh tunggu market koreksi. Udah tinggi………
Apakah Anda salah satunya? Begini, biar lebih detail, yuk lihat data di bawah ini: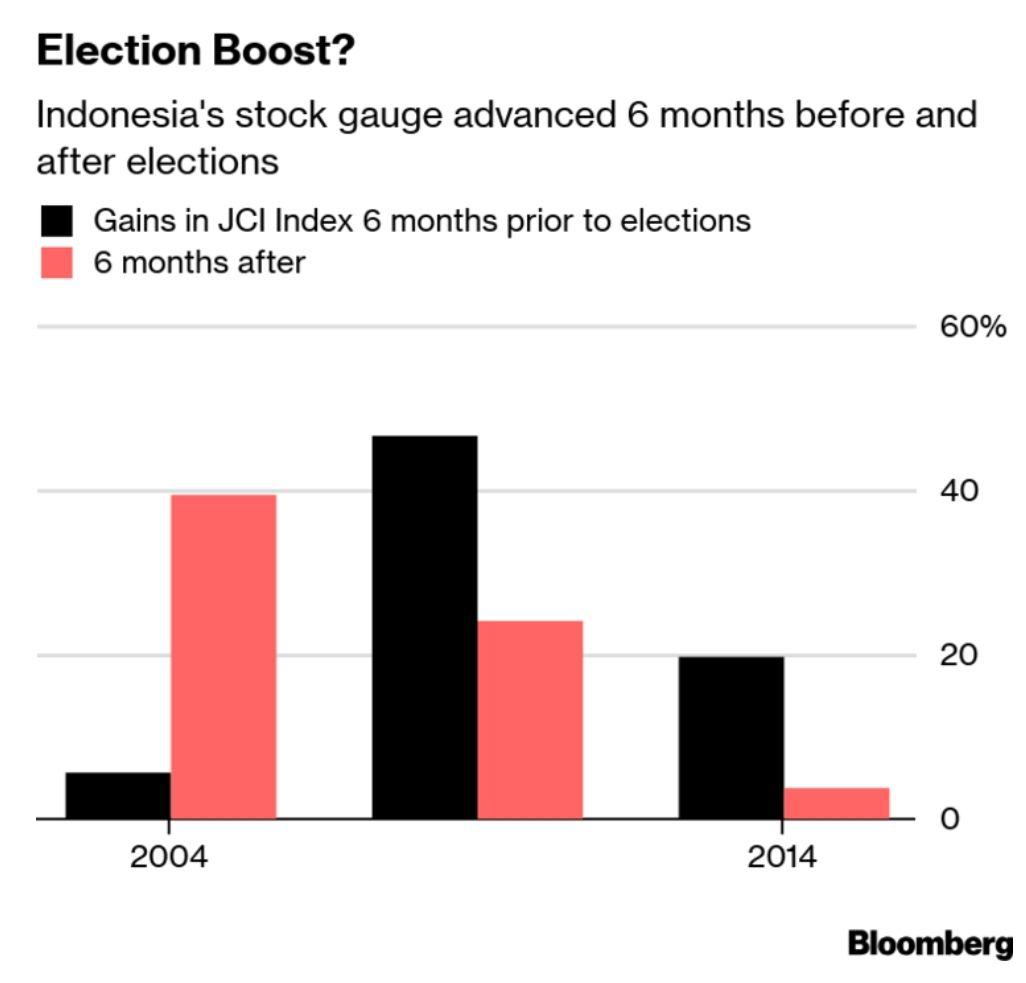 Data di atas menunjukkan IHSG di tahun pemilu selalu meningkat. Meningkat sebelum pemilu ataupun setelah pemilu. Ini cuplikan artikelnya:
"The Jakarta Composite Index has advanced an average 22 percent in the six months following the past three presidential polls dating back to 2004, outperforming the 12 percent average rise in the MSCI All-Country World Index, according to data compiled by Bloomberg. Still, those gains lag behind the national gauge's average 24 percent increase in the six months prior to the voting, the data show. The measure has added 10 percent since October 17, well short of the average with less than three weeks to go until the vote." – Bloomberg
Banyak yang tidak menyadari hal ini, dan ini bisa menjadi kesempatan Anda meraih peluang 'tersembunyi' di pasar ketika orang lain lengah. Ketika orang lain terus menunggu, Anda bisa mencuri start dan meraih profit.

Jika Anda masih mengutarakan komentar klise di atas tadi, maka bisa jadi Anda kehilangan segala peluang di pasar dan akhirnya menunggu dan berharap IHSG kembali turun dulu untuk menjemput Anda. Pasar tidak pernah menunggu. Kita harus siap setiap saat.
---