1 bulan menjelang akhir tahun, bagaimana kinerja portfolio Anda sepanjang tahun 2017 ini?
Pada kesempatan ini, GaleriSaham kembali memaparkan kinerja bulanan kami (kinerja harian disampaikan di email internal GS PRO). Kami menjadi satu – satunya lembaga independen yang melaporkan kinerja internal kami yang marked-to-market, 100% bercermin atas rekomendasi yang dibuat. Hal ini merupakan komitmen utama kami sejak awal  GaleriSaham didirikan yang merupakan sebuah trading plan internal dari sejak tahun 2009.
Berikut adalah tabel kinerja sepanjang tahun 2017: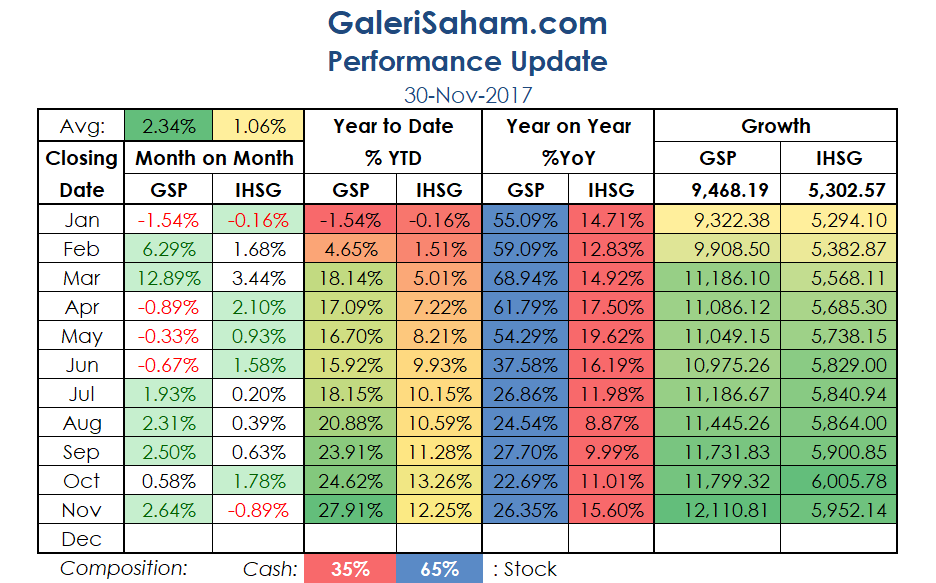 Tabel di atas menunjukkan sepanjang tahun 2017, dari bulan Januari hingga akhir November, portfolio GS PRO telah tumbuh +27.91%, 2x lipat lebih dari pertumbuhan IHSG yang hanya +12.25%. Adapun di bulan November portfolio kami tumbuh +2.64% ketika IHSG melemah -0.89%.
Dengan komposisi cash : stock 35 : 65, kami akan memiliki fleksibilitas tinggi dalam menghadapi segala peluang & tantangan volatilitas di bulan Desember. Metode Trend Optimizing kami akan membantu menjaga porsi cash seoptimal mungkin. Cash is the king, trending stock is the queen.
Berikut adalah visualisasi kinerja kami sepanjang tahun 2017: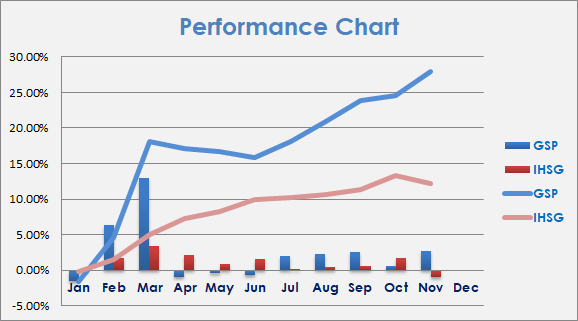 Metode Trend Optimizer yang kami gunakan dalam menganalisa dan memilih saham, dan konsnep systematic trading management yang digunakan dalam trading plan, menjadikan portfolio kami dapat tumbuh dengan lebih baik baik jangka pendek, menengah, hingga panjang, melampaui kinerja benchmark kami (dan Anda tentunya), yakni IHSG.
Apa saja saham yang berkontribusi positif dan negatif terhadap kinerja bulan November ini?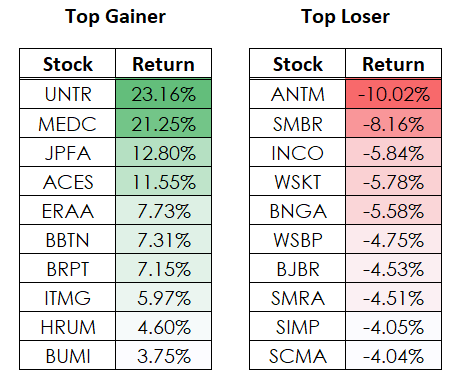 Kami mengalami loss cukup besar di ANTM & SMBR karena mengabaikan risk management. Namun dengan konsisten menjalankan trading plan yang berbasis trend, rata – rata keuntungan yang didapat pada top performer jauh diatas rata – rata top loser. Pastikan untuk hold saham uptrend semaksimal mungkin & jual saham downtrend sesegera mungkin. Jangan dibalik. (simak video: Portfolio zombie, ga naik – naik)
Per akhir bulan November 2017, komposisi sektoral kami adalah sebagai berikut: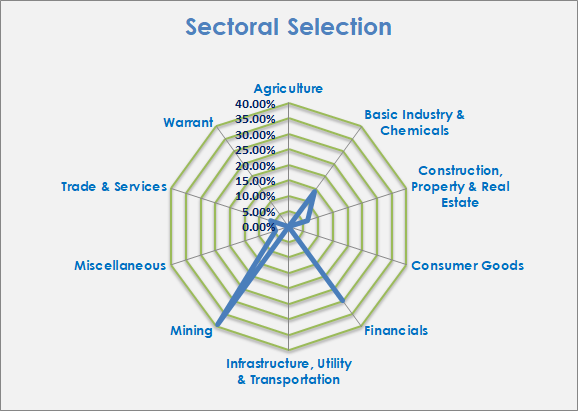 Kami memiliki sangat sedikit exposure di sektor 'Construction' yang mampu menghindari risiko penurunan akibat ketidakpastian dalam industri tersebut. kommposisi sektoral kami relatif terseleksi untuk menjaga fleksibilitas kami dalam menghadapi bulan Desember 2017.
Pastikan Anda memiliki analisa yang berkualitas, referensi yang dapat diandalkan, dan trading plan yang komprehensif. Bersama GS PRO, Anda, dan semua orang, akan memiliki referensi yang berstandar institusi. Maksimalkan peluang Anda menjelang window dressing tahun 2017 bersama GS PRO. Cek informasinya dibawah ini: